Once you receive an RFE from a buyer, below are the steps to update the RFE.
To respond to an RFE:
Click Projects, then select the appropriate project from the Projects list to display the Project Home page. Click Estimates in the Project Menu and select List from the Estimates drop-down menu. Select the required estimate.
The RFE Details page appears. (Please note: the reference image below, may be different for you)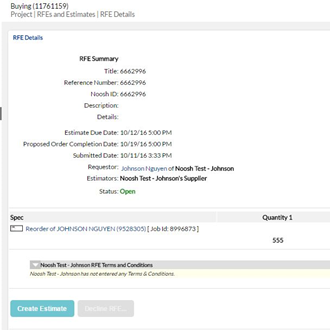 Click Create Estimate.
The Estimate Edit page appears.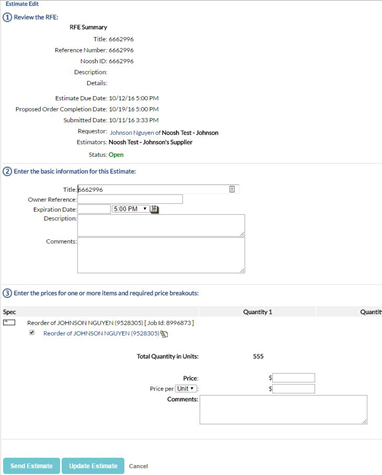 Enter basic information for your estimate, then enter pricing information.
Enter the price breakout information if required and if you'd like to create a new copy of the spec(s), click the Copy icon next to the spec you'd like to copy.
Click Send Estimate.
Note: The Price breakouts section only appears if a price breakout has been specified for the spec. For more information on price breakouts, refer to How to Create a Price Breakout. In this release of Noosh, the price breakout field is an optional field. You can ignore it if you want.
To submit a new estimate for an RFE:
Simply follow the steps outlined above. Unless the buyer removes you from the project team, you can continue to submit new estimates until the order is placed.