Workgroup managers can control the suppliers used by workgroup members when sending an RFE or an Order.
To do so, workgroup managers can register suppliers. Once registered, workgroup managers can approve suppliers for use by workgroup members. Workgroup managers can choose to allow workgroup members to use suppliers that are not registered; once a supplier is registered and unapproved workgroup members will not be able to send RFEs or Orders to that supplier.
To register a supplier:
Click Admin, then click My Group.
Click Suppliers in the Third-party Options section.

Click Add Supplier... in the Supplier List.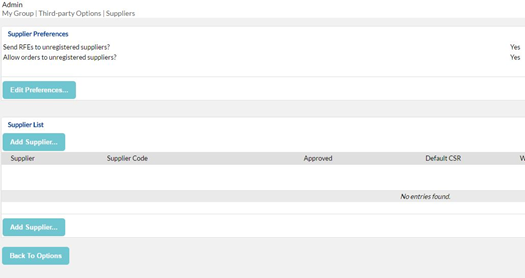 Search for the supplier by using either the first name or last name, the workgroup member's email address, or by using the supplier workgroup name, then click Find Supplier.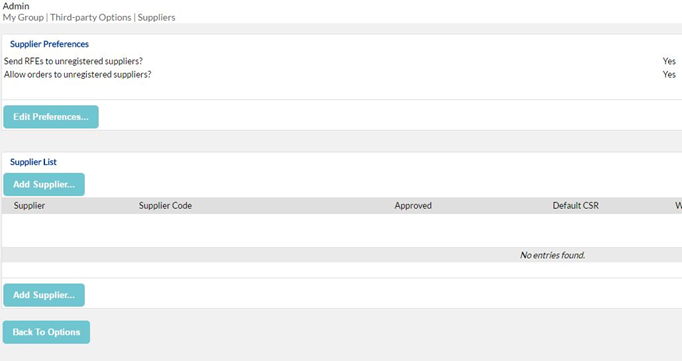 Note: Only non-buyers will show up in the Find Supplier search.
By default, your newly registered supplier will be approved. To remove approval status from a supplier, see below.
To edit your supplier list:
You may edit the approval status of a registered supplier, or remove the supplier from your registered list.
Click Admin, then click My Group.
Click Suppliers.
To edit a supplier, click the Edit icon next to the supplier you'd like to edit in the Supplier List.

Click Yes or No to change the supplier's approval status.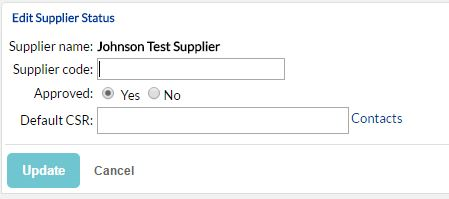 If you want to assign a default CSR to the supplier, click the Default CSR icon.
Click Update.
To set your approved supplier preferences:
Set approved supplier preferences to control whether workgroup members can send RFEs and/or Orders to unregistered suppliers. Workgroup members cannot send RFEs and/or Orders to registered and unapproved suppliers.
Click Admin, then click My Group.
Click Suppliers.
Click Edit Preferences... in the Supplier Preferences section.

Set preferences to:

Send RFEs to unregistered suppliers?
Allow orders to unregistered suppliers?

Click Update Preferences.